Last-Minute Marathon Tips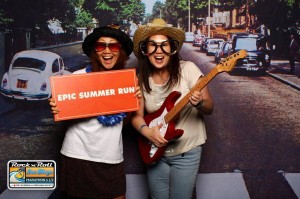 Congrats to everyone running a marathon or half this weekend! Here are some last minute tips for your race:
Read the final race instructions and the course map. Check out water stations, potties, and elevation.
Keep with you a list of things you want to remember about race day, and jot things down as they occur to you.
Get plenty of sleep all week.
Make final arrangements for travel, carpool, parking, etc.
Wait until after the race  to try anything new, such as new exercises and physical activities, shoes, clothes, foods, etc.
If you must replace shoes or gear, try to buy the same things that worked before, and give them a test run a few days before the race.
Keep your runs fun and easy this week, then stay off your feet on the day before the race.
Prepare your gear and food the night before, and set 2 or 3 alarms for race morning.
Skip any drinks or foods served on the course if you've never tried them before. Better stick to water and the foods you know.
When you see a photographer, run fast and smile!
Good luck and have fun!