I'm pleased to offer FREE workouts in North County San Diego and other fun, free fitness promotions. These workouts are really totally completely free.
Upcoming free workouts:
THIS MONDAY (4/17) – Celebrate Patriot's Day & the Boston Marathon!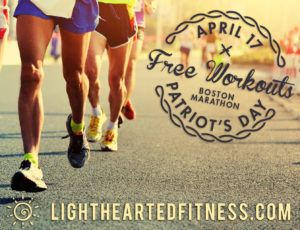 5:30am – Oh Dark 30 Run Walk: Walk or run 2.62 miles + optional 26.2 meter dash.
6:45am – FIIT Wakeup
6:30pm – FIIT Happy Hour

FIIT is Functional Intense Interval Training. Group fitness training, a little like crossfit, a little like bootcamp, safe & more customizable for your fitness level.
TEXT CHRISTINE 760-575-HAPPY (4277) or email christine@lightheartedfitness.com to RSVP! All workouts are at San Diego Premier Training: 6451 El Camino Real #B2, Carlsbad, CA, 92009.
SIGN UP NOW for more free workouts!
Free workout emails include San Diego, online, and at-home workouts!