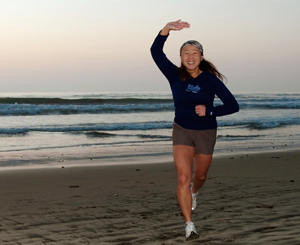 Hi!
I'm Christine from Christine Burke Fitness!
Your Friendly Carlsbad Personal Trainer
Thanks for finding me online!
I'm a Fitness Trainer and Coach, training in Carlsbad, Encinitas, and North County San Diego. I make fitness and strength training simple and fun!
My fitness programs are designed to help you enjoy exercise and build healthy habits.
Looking for the best fitness trainer for you?
Wouldn't it be awesome if I happened to be the perfect personal trainer for you?
It would be awesome for me too! I hope I can help you with your strength and conditioning goals!
Or keep reading to learn more about me and my lighthearted approach to fitness!
But first…
Some Shameless Self Promotion
Already have some fitness goals and looking for a deal? I'd love to fill up my early morning sessions! How about A FREE WEEK of personal training just to try it out?
Workout 3x/week with me in Carlsbad. There are 2 options:
M 5:30am + Tu-Th 5:15am

Semi-Private Personal Training – Limited to 3-5 clients, customized for your goals.

M 5:30am + W-F 6:30am

Group Fitness Classes – Bring all your friends! It's like Crossfit or Boot Camp, adjusted to your athletic goals and current level of fitness.
FREE WEEK
Awesome! Sign me up to try a week of personal training!
But wait! There's more! If you like the trial week, continue training 3 weeks for just $180 Semi-Private or $90 Group! That's 4 total weeks of science-based fitness training with a fun, experienced, and certified fitness trainer for less than a night out with friends! Options:
FREE TRIAL + $180 for 3 Weeks

M 5:30am + Tu-Th 5:15am

Semi-Private Training
FREE TRIAL + $90 for 3 Weeks

M 5:30am + W-F 6:30am

Group Fitness
FREE + 3
OMG! What a deal for 4 Weeks!
But wait! There's even more! Attend all 12 sessions, and you'll get a 5th BONUS week FREE as a reward for showing up early in the morning! You have a choice of:
FREE TRIAL + $180 for 3 Weeks

M 5:30am + Tu-Th 5:15am

 Semi-Private Personal Training + BONUS REWARD WEEK
FREE TRIAL + $90 for 3 Weeks

M 5:30am + W-F 6:30am

Group Fitness Classes + BONUS REWARD WEEK
FREE + 3 + BONUS
WOW! I'd love that bonus 5th week!
One more exercise option for you…
5:30 AM ???
ARE YOU OUT OF YOUR MIND 5:30 or 6:30 AM? Can I try a free week with an exercise coach at another time?
Whew. Glad that's done. Self-promotion is kinda tiresome.
Why Lighthearted Exercise?
We are advised to take our health seriously, and I think that is sound advice.
So then we learn to write down our health goals, break them down, buy pedometers, read labels, track our macronutrients, join a gym, run with friends, cut the sugar, watch the drinking, and…
And just to be clear, I think all of that is pretty good advice, too.
It's just that… it's a LOT of advice.
And I think, for a lot of people, that this whole serious process of getting healthy has gotten really big and complicated. Maybe confusing. Maybe overwhelming.
That's how it is for me too! I'll spend hours researching, making sure I understand the science, and I'll want to do everything right, and then I wind up with 1,000 things to do EVERY DAY FOREVER.
Between all that information plus my own ambition plus all my overthinking, I end up exhausted, with very little accomplished.
And then I get to that point where I think, if I can't do this right, why start at all?
Do you ever get like that?
Some time ago, when I was at that point, and I realized I was hitting this point more than I liked, I thought I'd try taking a step back from taking everything so seriously.
And what I found was… when I lightened up, I lost the stress of doing all the steps exactly right. I also got a little freedom to add some fun to the process.
So… by committing to less work, more fun, I end up with more accomplished.
And that's pretty much how a lighthearted approach to life works for me.
It's NOT that I believe you shouldn't take things seriously.
I promise, as your personal trainer, I take your health, safety, and happiness very seriously.
It's just when I get stuck on something I want to get done, I have to remember:
Keep things simple and fun.
How does that work with a lighthearted approach to fitness?
Well, if you train with me, your exercise habits can become really simple:
Schedule your workout.
Show up.
And as your exercise coach, I'll sort out the rest… which exercises, what weights, how many reps, what equipment, etc.
Now, of course, you're always welcome to ask questions and get involved in the details of your workouts. These details can include:
Making sure your workout gets you results.
Making sure those results match up with your goals.
Staying current on fitness science and research.
Assessing how you are performing at every workout and make adjustments as necessary.
Keeping you safe.
Updating your whole program as you need it.
Most important! Keeping things fun and motivating!
Most of my clients want to know these details. It's interesting and motivating. And I'm always happy to answer any questions about your fitness program.
But the nice thing is… when things do get busy and stressful for you, you're just as welcome to forget about all these details and keep it simple:
Schedule your workout.
Show up.
And we'll have fun!
See? Keep it simple and fun!
Well… it's fun for me.
I'm hoping it'll be fun for you too.
Text or call me now 
760-575-HAPPY (4277)
 and ask me if a
lighthearted approach to fitness
is right for you.